Summer Camp will be offered on the St. Paul's Episcopal School campus beginning Tuesday, May 29th through July 27, 2018.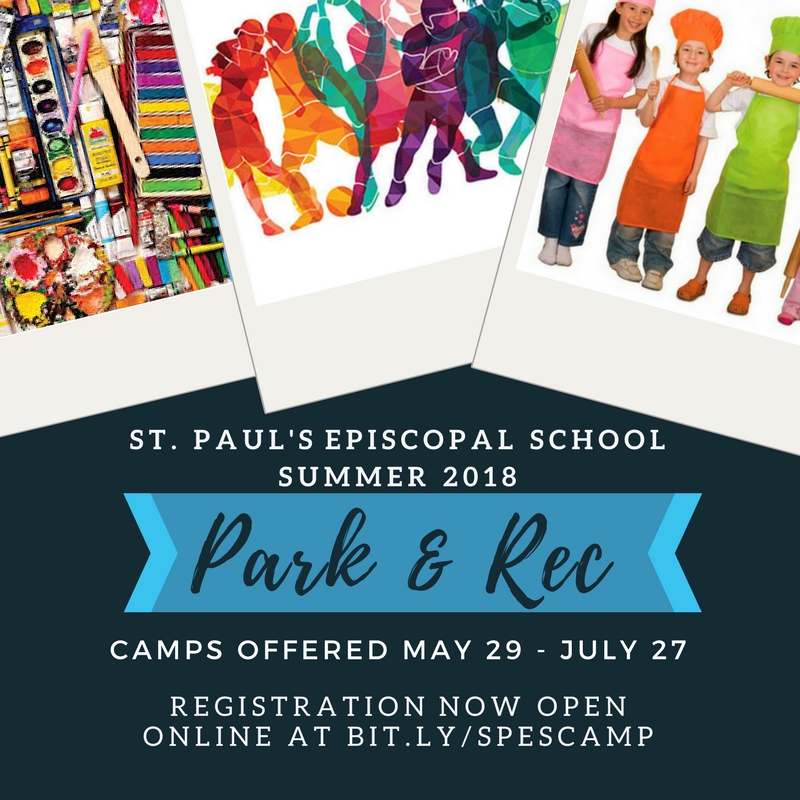 **TO REGISTER ONLINE NOW FOR ST. PAUL'S "PARK & REC" SUMMER CAMP 2018! - VISIT bit.ly/spescamp TODAY!**
CAMPS for Rising 1st - Rising 6th graders:
Knitting/Crochet Camp: May 29-June 1
Camp Pursuit STEAM Camp: June 4-8 & June 11-15
Budding Artists: June 18-22
St. Paul's Disciple Camp: June 25-29
Kids Baking Camp: June 25-29
Biking Camp: July 2-6 (closed July 4th)
Basketball Camp: July 9-13
Martial Arts Camp: July 16-20
Nature Exploration Camp: July 23-27
St. Paul's Park & Rec Afternoon Camps vary.
Morning Camps are held 9AM-Noon; Afternoon Camps held 12:30-4PM.
Early drop-off/late pick up available.
Children attending both morning & afternoon camps may bring a sack lunch for supervised lunch time from 12-12:30PM.
Camps for Rising 1st-6th graders are $100 each session with the exception of Camp Pursuit.
Junior Pacer Camp available for Toddlers - Kinder/5YO.
May 29-July 27 from 7:30-5:30 PM, Monday-Friday.
Cost is $200 per week. Families may select weeks of their choice or select all summer if needed.
St. Paul's Summer Camp 2018 will be led under the direction of Mrs. Jenny Akin. For more information, please contact Mrs. Akin at jakin@speswaco.org.