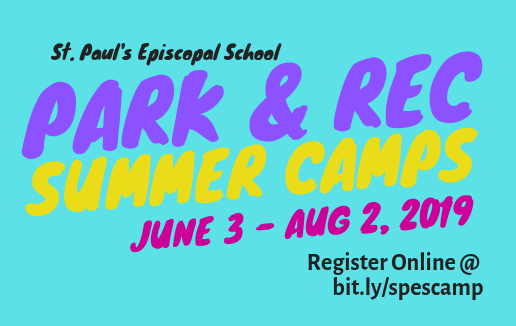 Parks & Rec Summer Camp for Rising 1st - Rising 6th graders:
Morning Camps are held 9AM-Noon; Afternoon Camps held 12:30-4PM.
Early drop-off/late pick up available.
Children attending both morning & afternoon camps may bring a sack lunch for supervised lunch time from 12-12:30PM.
Camps for Rising 1st-6th graders are $100 each session.
Junior Parks & Rec Summer Camp available for Toddlers - Kinder/5YO.
Monday - Friday, 9:00AM - 4:00 PM. Cost is $200 per week.
Early Bird (7:30-9AM) & Extended Care (4-5:30PM) available for additional $25 charge per session.
Families may select weeks of their choice or select all summer if needed.
Session 1: June 3-7, STEM Camp
Session 2: June 10-14, Basketball Camp; Art Camp
Session 3: June 17-24, Football Camp; Cheer Camp
Session 4: June 23-27*, St. Paul's Disciple Camp - Escape to Athens!
Session 5: July 1-3**, Martial Arts/Self-Defense Camp
Session 6: July 8-12, "Feeling Buggy" Camp
Session 7: July 15-19, Basketball Camp; Reading Round Up Camp
Session 8: July 22-26, "Around the World in 5 Days" Camp
Session 9: July 29-Aug 2, "The Science of Summer" Camp
*St. Paul's Disciple Camp, Care will be provided on 6/28 for regular Park & Rec campers
** SPES Closed July 4th & 5th