Parents+Friends Upcoming Events - Fall 2021
Parents+Friends hosts several events throughout the year to foster involvement, fellowship, and fun for our SPES families. Upcoming events for Fall 2021 include Harvest Dinner (10.20.21), Family Fun Night Chili Cook Off (11.12.21), and the Family Fun Night Christmas Event (12.10.21). We hope you'll join us! Contact parents@speswaco.org for more info.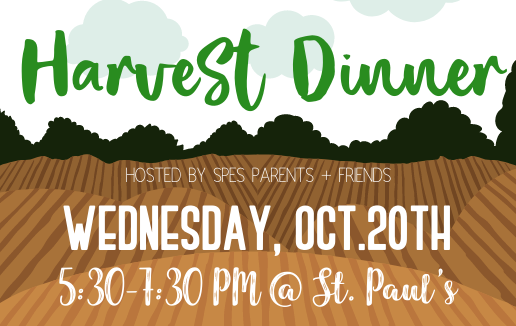 Please join us for food, fun and fellowship at the annual SPES Parents+Friends Harvest Dinner! This special tradition will include a BBQ dinner generously provided by Waco Custom Marketplace and Rose Berryman. Activities/yard games will be in action, too!
This is a free event for SPES students, staff and their families though we encourage you to support the 6th grade bake sale! The Class of '22 will be selling sweet treats & all proceeds will go towards their class trip to Washington D.C. in the spring.

Wednesday, October 20, 2021
5:30 p.m.-7:30 p.m.
St. Paul's Playground
Please RSVP here by Friday, Oct. 15th!
(If rain dampens our outdoor plans, we will move into the gym and open the garage door.)