Howen's Highlights
April 17, 2020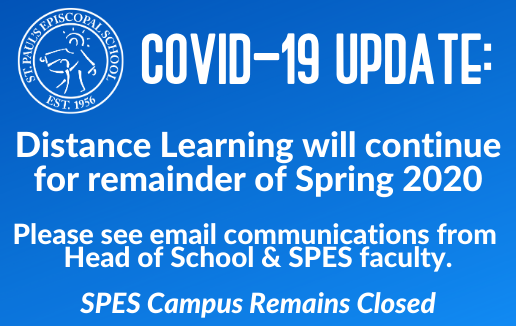 Dear St. Paul's Families and Friends,
Governor Abbott held a press conference today at which time he announced that public and private schools are closed for the remainder of the school year. He made this announcement during a press conference announcing the gradual reopening of businesses in Texas.
Know that the teachers and staff at St. Paul's will continue to provide lessons and educational opportunities for all of our children. Although I am saddened we will not be able to gather together on our school campus, I look forward to seeing our children continue to learn and grow. Our campus may be closed, but school is still in session.
It is difficult navigating this unprecedented time. Together we can continue to support each other.
The Lord himself goes before you and will be with you; he will never leave you nor forsake you. Do not be afraid; do not be discouraged. Deuteronomy 31:8
We know that God walks with us in this journey. Do not be discouraged. Have faith that, with God's help, we will all be able to navigate these difficult times.
#stpaulstogether
M'Lissa Howen, M.Ed.
Head of School
St. Paul's Episcopal School
mhowen@speswaco.org
Educating the whole child in mind,body and spirit.